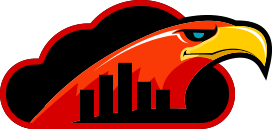 TRACK HAWK
Monitor your online music - wherever you are, on any device.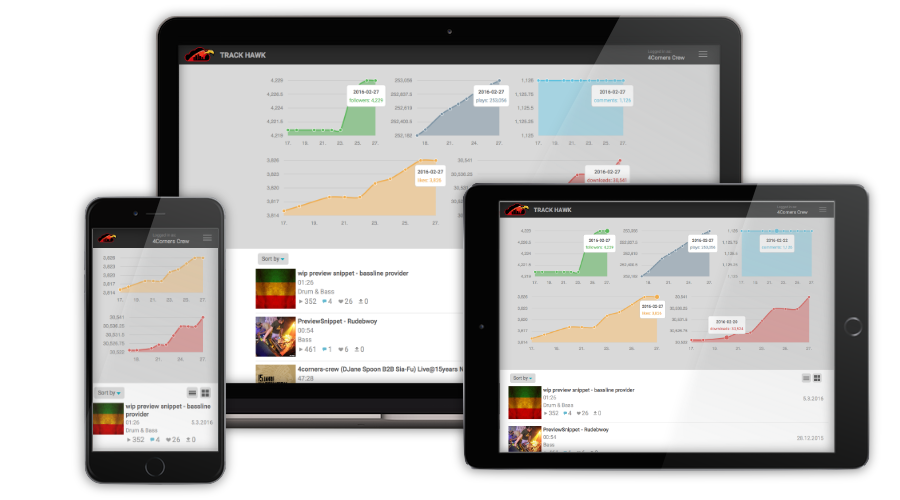 Made by musicians, for musicians!
If you are an artist, band, manager or producer, Track Hawk is a web application designed for you:
Easily view your SoundCloud stats (plays, likes, comments, downloads), together with your Facebook likes, Twitter followers and Mixcloud followers.
Mobile first
This is the main reason behind the creation of Track Hawk. If you want to see what's going on with your SoundCloud tracks you should be able to do that on any device! The Track Hawk monitoring view is designed specifically to work well when viewed in the web-browser on tablets and smartphones.
Your statistics at a glance
Check your important stats at a glance - no need for searching and clicking around different websites or apps. Track Hawk shows you your plays, likes, comments and downloads for SoundCloud tracks. In addition you can also see your number of SoundCloud followers, Facebook likes, Twitter followers and Mixcloud followers.
Musician focused
As music producers, we were frustrated by the lack of support tools for artists who want to promote and monitor their tracks online. SoundCloud in particular seem to be more concerned with the needs of music consumers. So we decided to solve the problem ourselves… and Track Hawk was born!
Simple to use
First, just create a Track Hawk account: It's super-simple to set up, all you need to enter is a username, email address and password. Then, just point Track Hawk at the URLS of the relevant account pages you want to monitor... Easy!
Totally free
The services at Track Hawk are 100% free. No credit card or personal info required. We just want to share this tool with the music community.
Secure and trusted data sources
All data in Track Hawk is requested from the official APIs of the relevant platforms: SoundCloud, Twitter, Facebook and Mixcloud. Only the publicly available data from your accounts can be accessed by Track Hawk.
RT @phiewer: Compose your Memories with the Multimedia Slideshow Update 1.5.0 Free Download:
https://t.co/f9q7u9114g
#Software #Electron #…
06/20/2017
RT @phiewer: Update 1.4.0 Enables Phiewer to open mostly all RAW camera images. Free Download:
https://t.co/f9q7u9114g
#Software #Electron…
06/09/2017